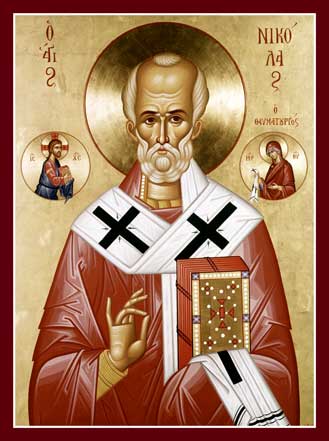 By the glory of God, and through the prayers of many, the Naming of the New Church Fundraiser was a tremendous success.  With almost 200 people in attendance and almost 225 people casting a first round vote of who they wanted the new church to be named after, the Saint who chose us after two rounds of voting and finally selected by lot by Metropolitan Makarios was ST. NICHOLAS!
Photos from the event can be seen here.
There were 56 names submitted in the first round alone by the faithful and the top-7 names were: St. Phanourios, St. George, St. Nicholas, Holy Trinity, St. John the Forerunner, Sts. Peter and Paul, St. Constantine and Helen.
Official results can be found here. (Adobe Acrobat needed)
After a second round of voting by the faithful in attendance, the top-3 remained: St. Phanourios, St. George and St. Nicholas.  At this point, as is tradition in the Orthodox Church, selecting names occurs during the chanting of the hymn to the Theotokos, "It Is Truly Meet" ("Axion Esteen") during the Divine Liturgy.  In keeping with the tradition, the choir began to chant this hymn and at the end of the hymn Metropolitan Makarios chose from the top-3 names out of his skoufo (i.e. "hat").
With the help of Fr. Deacon George, the name was revealed and St. Nicholas was announced. (video of the selection of the name)
A true blessing for all us and an indication that St. Nicholas chose us and wanted to remain with us as we begin the building of our new church and parish.  As he has in the past, he will continue to be our intercessor and be an example of a defender of the true and genuine Orthodox Church and teach us to remain steadfast in the Church as he did in the First Ecumenical Council in Nicea.
The commitment of the faithful was not only apparent in their attendance and involvement in the process but also in their financial contributions to "kick-off" the Church Building Fund.  With a last-minute donation, the final tally for the fundraiser is $113,545.00.   Glory to God for all things!
If you would like to make a donation to the Church Building Fund, please contact Fr. Deacon George